Prunes
now browsing by tag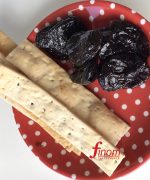 Here is one of my favorite late night snacks of lavosh crackers and prunes. Lavosh crackers are a yeast free flatbread style of long slender crackers. Quite posh really.
The crunchy subtle flavor of the lavosh crackers goes well with anything savory. But here is a nice way to eat them with something sweet. Prunes are another long life treat that you can have in your pantry.
Buy Finom lavosh crackers from our list of lavosh crackers stockists. Or ask your local gourmet grocery retailer to contact us to stock them.
Otherwise this is where to buy lavosh crackers online in our web store.
#latenightsnacks #midnightsnacks #snacks #lavoshcrackers #crackers #prunes #snackplate #lavosh #yeastfree #flatbread #posh #poshtucker #savory #savorybiscuits #sweet #sweets #crunchy #prunes #pantry #lavoshcrackerstockists #gourmetgrocer #operafoods #finom #finomfoods

Now you can buy Finom brand Lavosh crackers at Ritchies IGA New Lambton.
Ritchies IGA re-opened their New Lambton NSW store this week after a long closure for renovations. The refurbished store is much larger and has a huge variety of food and grocery lines compared to most IGA stores.

Its really nice to see Ritchies IGA show a great deli counter and cheese shop. Finom Lavosh is perfect with a cheese platter and makes a posh presentation for your guests.

Shoppers will love their historic Newcastle foodie images that enhance the decor.
#ritchiesiga #ritchiesiganewlambton ritchiesstores #iganewlambton #lavoshcrackers #lavosh cheeseplatter