June, 2019
now browsing by month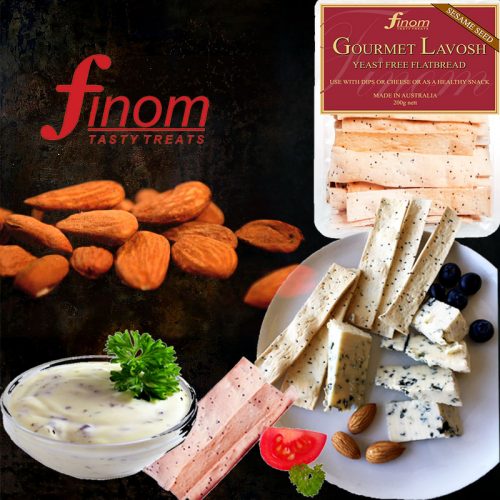 Finom is a wholesale lavosh crackers biscuit supplier in Australia. Finom is a registered brand of Opera Foods which has been specially launched for the marketing of Gourmet Lavosh Crackers.  Opera Foods also  offers smoothie ingredients and superfood toppings for smoothie bowls and granola bowls.
There are two types of Lavosh Crackers Flatbread available in our  online store, The Sesame Seed Lavosh Crackers and The Black Sesame seed lavosh crackers with pepper. They can be given as the perfect gourmet gifts to people who are interested in fine Australian gourmet foods.
Consumers can buy 200gm packets of Lavosh Crackers while distributors and retailers can order it in bulk from our parent company, Opera Foods.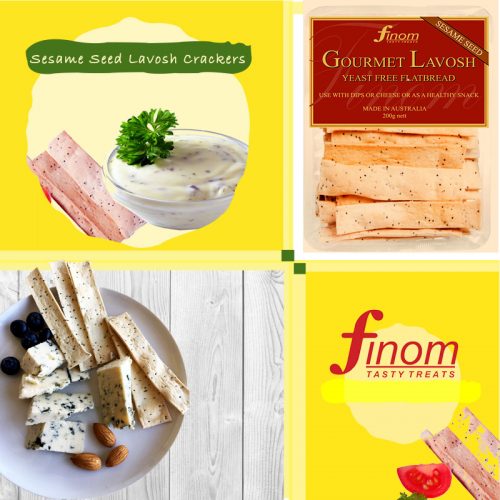 Our Finom brand Lavosh Crackers are yeast free and very healthy as a breakfast meal. They have a great taste and are very soft, a simple flatbread cracker with no added sugar in it.
Our Black Sesame Seed with Pepper is more or like the plain version with a bit of added pepper in it. But that does not make it extremely spicy and hot but blends it into the perfect taste to have with dips of Cheese.
Our original flavor of Sesame Seed Lavosh Crackers is unique and stylish plain cracker biscuits. They are simple yet tasty Gourmet Lavosh Crackers for snacking.
They can be used as great finger food for some functions and gatherings, or you can use them as a crunchy snack when you have called guests to your home.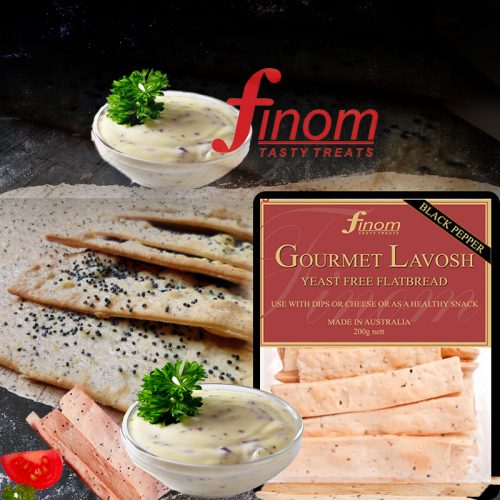 Even though lavosh was introduced by the Ottomans long ago the taste and crunchiness of Lavosh Crackers are a standout even today.
The two most common way of having Lavosh Crackers are when it is fresh and soft right after being taken out from an oven or when it is hard like a cracker after being cooled off.
Our Gourmet Lavosh, Yeast free Flat Bread is found in two varieties namely Black Sesame with Pepper and Sesame Seed Lavosh crackers. The Black Sesame with Pepper is a plain cracker with a slight difference of pepper being added to it. But that does not make it extremely hot and spicy at all you can enjoy it with dips of Cheese.
If you are partying or you want a healthy breakfast at home you can order from the web store of our brand name Finom.
You can also buy them online in bulk from our parent company Opera Foods, wholesale food Suppliers Sydney, Melbourne & Brisbane.